Zanter e puer Joer ass de Wonsch fir en Plagen-Auto ëmmer méi grouss gin. Eng Döschewo oder eng Méhari sollt et sin. Am Summer 2021 hun ech mech zu Portiragnes an Ëmgéigend op de Wee gemeet an all Garage ofgeklappert.
Op Béziers an souguer bis op Palavas-les-flots woren d'Karin an ech der kucken, alles ouni Resultat oder just nach en Koup Schrott.
Ech hat meng Sich schon bal opgin, do gesin ech nirft dem lokalen Biobuttek vun Portiragnes um Parking vun enger Garage direkt 4 Deuchen beieneen.
De Garagiste huet mer erkärt datt leider keng ze verkaafen ass; hätt e awer en Frënd vun Bessan den seng ging verkaafen.

Dës 2CV ,1a restauréiert, sollt fir 16.500€ verkaf gin. Pardon, jo, 16.500€, fir eng Deuche, nee, daat ass einfach ze deier fir en Tour bei d'Plage op mol bis an d'Hannerland.
Doheem unkomm huet daat Ganzt mer awer keng Rouh geloos, sou schéin se och war. Méi spéit stellt sech eraus datt des 2Cv schon méi lang bei leboncoin.fr ungebueden gin ass, allerdengs fir just 13.000€!
Den Garagiste wor vun sengem Frënd sou entäuscht datt hien mer seng fir en éierlechen Praïs restauréiert.
Over the last few years the desire for a beach car had grown. It should be a Citroën 2CV or a Méhari. In the summer of 2021, I investigated in Portiragnes / France and it's surroundings to find one of these Tin Snails. I knocked at every garage's door.
Karin and I searched for a good running 2CV in Béziers, inspected one in Palavas-les-Flots, but all of them were just a bunch of junk.
I almost gave up my search, when I saw next to the local organic shop of Portiragnes, plenty of them at the local car dealer.
The garage salesman explained that unfortunately none was for sale; but that he has a friend in Bessan, 10 km away, who was going to sell his.
This 2CV, totally restored, should be sold for 16.500,- €. Sorry, yes, 16.500,- € for a 40 year old upside down pram. No way! That is just too expensive for a trip to the beach or the county side of the French Riviera and the Longuedoc-Roussillon.
At home, the temptation buying this one grew and grew, so beautiful she was. Later on, it turned out that this Tin Snail was to be sold by his friend on the internet plat form www.leboncoin.fr, for only 13,000 €!
Michel, the garage owner and mechanic, was so disappointed of his friend's attitude that he offered me to restore one of his own at a fair price.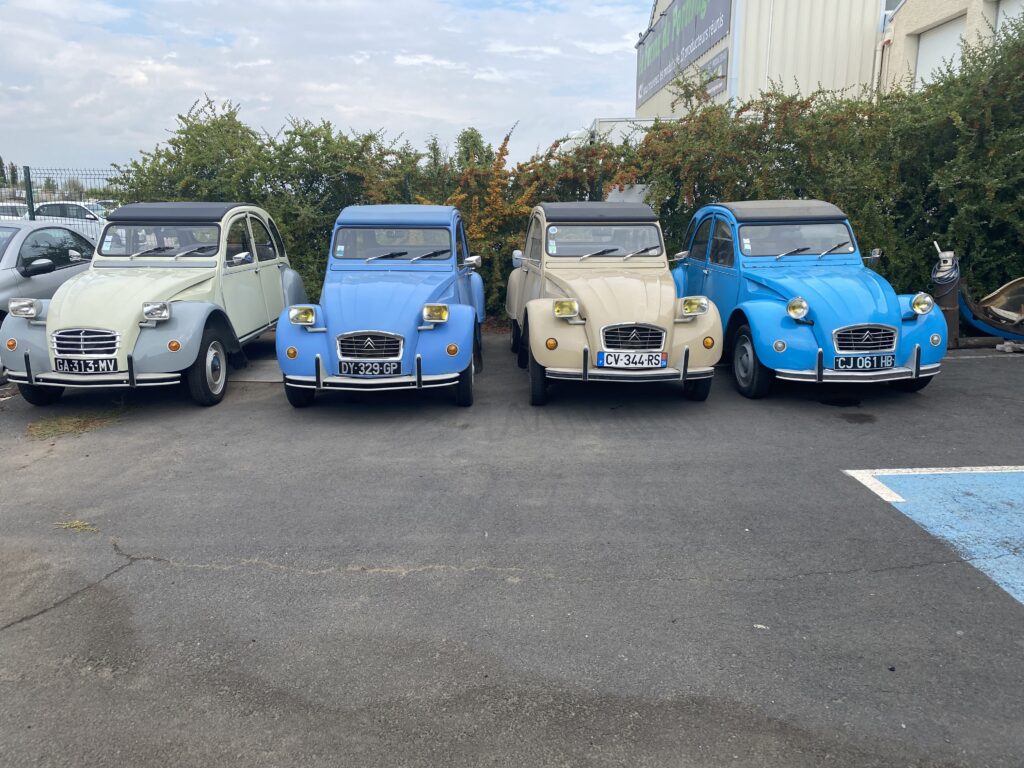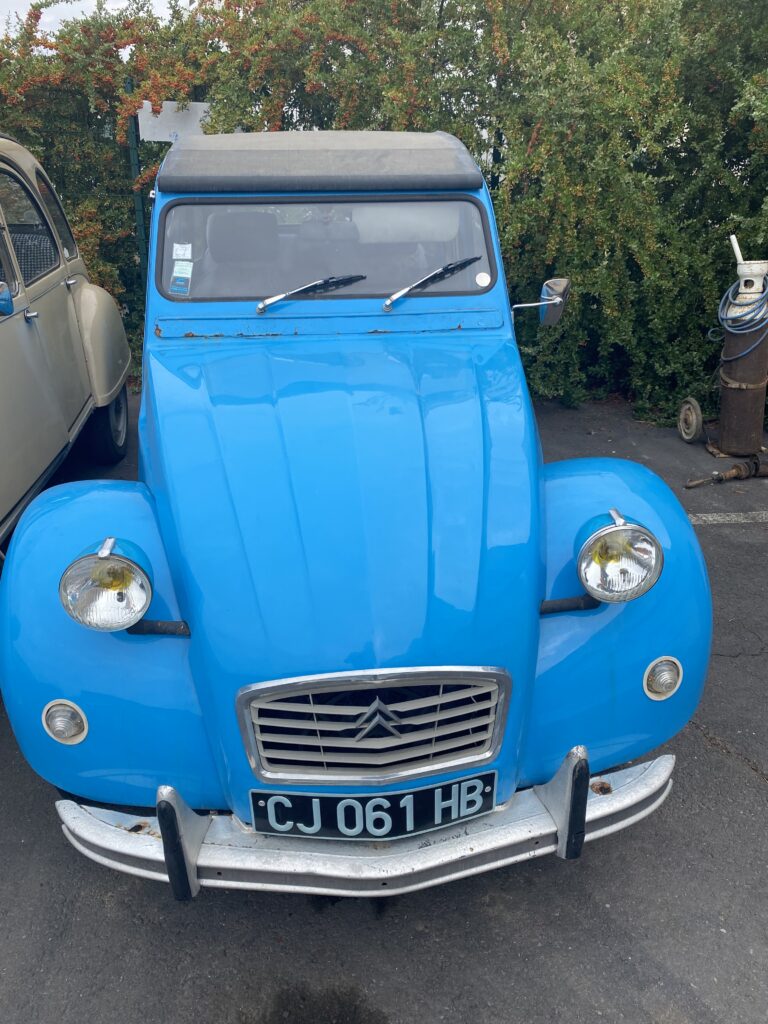 Mettlerweil ass dem Michel seng Collectioun um Parking nach méi grouss gin an d'Restauratioun vun menger Deuche get och schon e Steck.
In the meantime, Michel's collection had grown and the restoration of my 2CV could begin.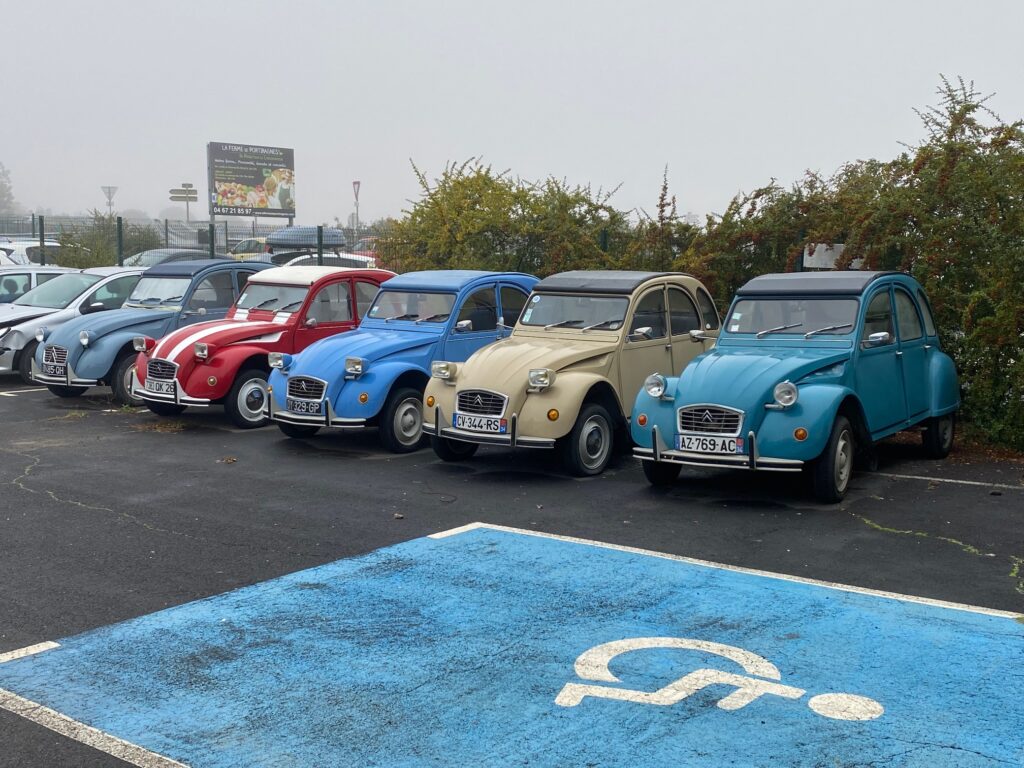 Am Dezember konnt ech mol schon an menger neier Deuche "Probesitzen" goen.
In December 21, I already could take a seat in and imagine me driving the 2CV next summer.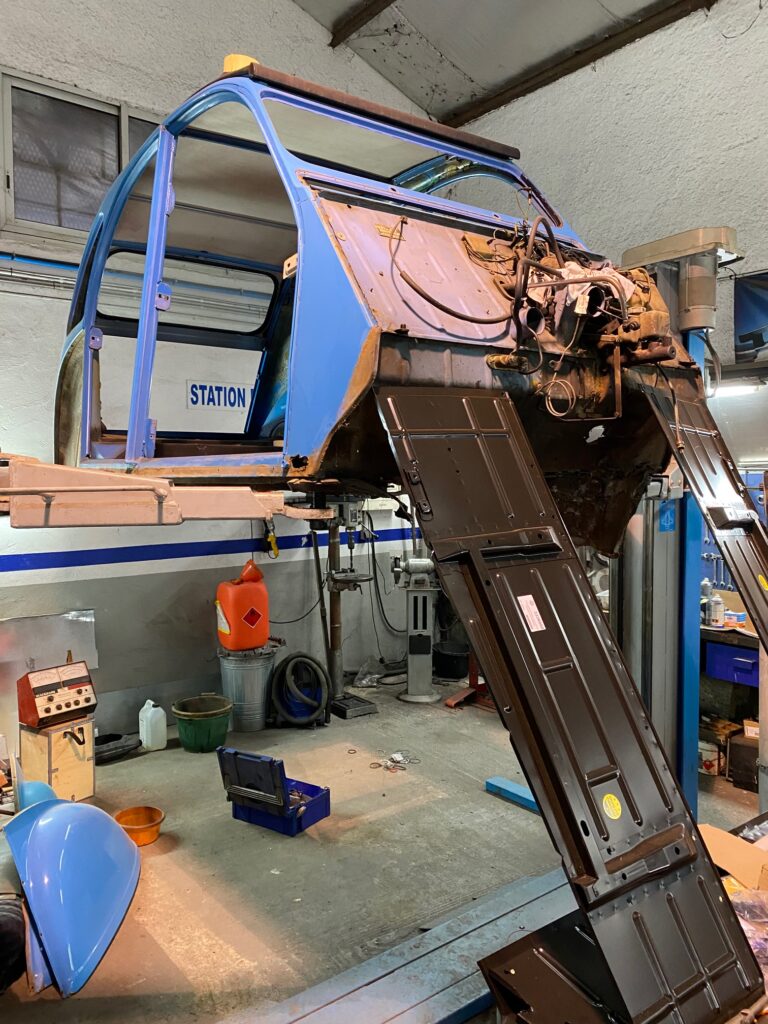 Am Januar 2022 koum du d'Hiobsbotschaft vum Michel!
De Michel wor an finanziell Schwirechkeeten gerooden an huet missen en Deel vun senger Garage un en Partner verlounen fir finanziell iwwert d'Ronnen ze kommen.
Den Michel konnt déi ungefangen Restauratioun vun menger "Deuche du Puech" net méi färdeg maachen.
An waat elo? Ass den Draam vun enger Deuche lo um Enn? Wéi geet et weider?
All Misère huet och ëmmer eppes Guddes un sech. Kurzerhand huet den Michel mer seng Dolly verkaaf als échange vun menger 2CV.
Mettlerweil ass et März an d'Dolly ass op mein Numm ungemellt an versechert. Den Contrôle technique ass och gepackt an d'Dolly waard nömmen nach drop fir vun sengem neien Propriétär ausgefouert ze gin.
En speziellen Merci awer nach un den Frank L. ouni deem seng Vermettlung dës Transaktioun net sou séier iwwert Bühn gaang wier.
In January 2022, I got bad news from Michel!
Michel was in financial difficulties and had to rent a part of his garage to a partner to get rid of.
Michel could not finish the restoration of my "Deuche du Puech".
And my dream of a 2CV? How does it go on? Will I ever drive a Tin Snail on summer vacation?
Every misery always has something good in it. Shortly afterwards, Michel sold me his daily driver DOLLY as an exchange for the loss of my "Deuche du Puech".
By March 22 my DOLLY was registered and insured on my behalf. The technical control MOT passed with success, DOLLY is just waiting to be run.
Special thanks, however, to Frank L., without whom, this transaction would not have been possible.